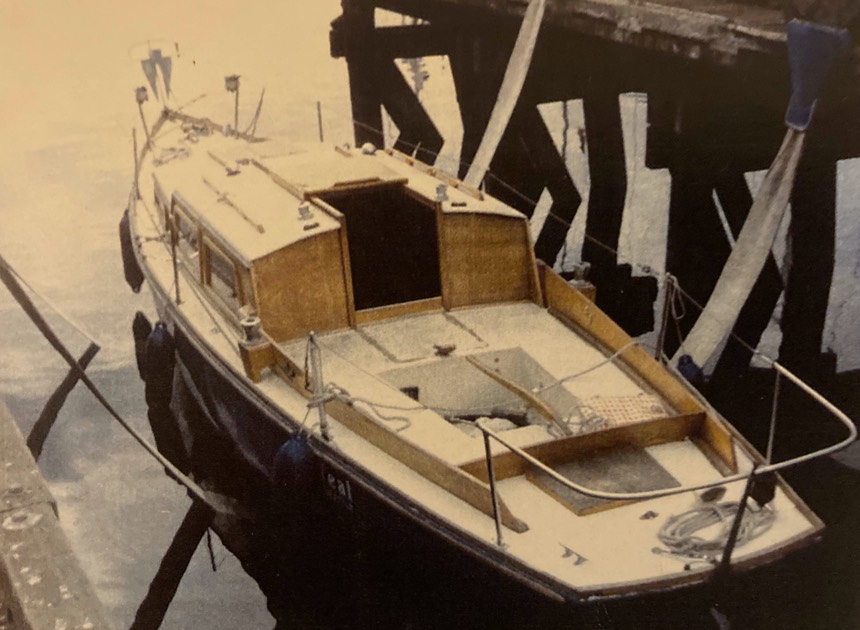 Friothusibu: "peace weaver" — an Anglo-Saxon kenning for a woman
My sailboat is a 1958 Spencer 28 sloop, Hull #1, built in British Columbia from a design by John Brandlmayr. In her glory days, she was a classic midcentury modern beauty with naval architecture based on the copper-over-wood style of the late 19th/early 20th century, a sizeable ballast enabling her to have significant sail area and be suitable for racing — in 1958. Boat builders had not yet learnt the strength of the newfangled fiberglass, and, like all of the Spencers of the era, she was significantly overbuilt, which is why she is still presumably a viable bay vessel and, at the very least, a fine bunk-office for a writer. She is being "restored" to a state of shabby chic art boat by a theatre/literary artist and whoever else can help. 
She is currently in a work slip at South Park Marina in the Georgetown neighborhood of Seattle, across the Duwamish River from Boeing on a Superfund Cleanup site, a tacitly affordable yet endearingly barrio 'hood and about the last stand of scruffy and probably inveterate artists in Seattle — I mean, who has the money to live in Capitol Hill or Fremont anymore? It is full of rich kids — not to mention the down-at-heels RV set with no income. 
And some boats.